Manitou Electric Forklift Hire Perth
The Manitou Manitou ME 425C Electric Forklift Truck offers a maximum load capacity of 2,500 kg capable of transporting your goods and various materials in complete safety. Its compact design is ideal for efficient handling under all conditions, especially in the tightest work areas. Its 48V battery makes the ME 425C a compact and economical forklift truck, perfectly suited for light applications that do not require an 80V battery.
We also have a wide range of Manitou telehandler hire and all terrain forklift hire solutions that offer unrivalled durability, versatility and reliability.
Learn more about our Manitou electric forklift hire model below or contact us today to schedule a free demonstration.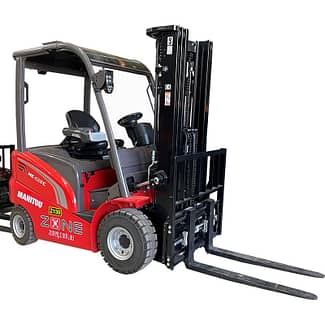 Manitou ME 425C Electric Forklift Truck
Lifting capacity 2,500kgs Fully electric Weight 4,300kgs Length 3,492mm x W 1265mm x H 2155mm Suitable for indoor and outdoor...
More info
Frequently Asked Questions
Q: Is there a minimum electric forklift hire Perth period?
A: The minimum hire duration is 1 day and it can be hired for as long as you require.
Q: Do you provide wet electric forklift hire options?
A: Yes, we have a qualified and experienced team of expert electric forklift operators who can assist with your project.
Q: Is delivery included?
A: Delivery can be included when required for a competitive price, which will be included within your quotation. Deliveries are typically dispatched on weekdays between 9am and 5pm.
Q: Do I need a license to operate a telehandler?
A: Yes, HRWL LF Competency is required.